How to Fix a Chipped Tooth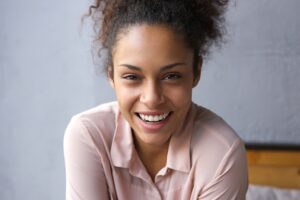 Our teeth are prone to gradual wear and tear over time, but what happens when we suddenly chip or crack a tooth? Whether you were chewing or experienced an injury, a piece of tooth chipping off can be an alarming scenario. Fortunately, there are a variety of dental treatments that can address this type of problem. The most beneficial treatment for your chipped tooth will depend upon the severity of the damage. 
For a small chip of your tooth enamel, a minor procedure like a tooth-colored filling or cosmetic bonding may be all that is needed. If a more substantial piece of your tooth has broken, you may be a better candidate for a porcelain crown, which completely covers the damaged tooth. On the other hand, if one of your teeth in the front section of your mouth becomes chipped, a porcelain veneer may offer a highly natural-looking improvement that restores your tooth shape. 
In more severe cases, a tooth can chip and expose its pulp (the center that contains blood vessels and nerves). For patients with this more advanced break, a root canal may become necessary to address a possible infection that may have occurred from bacteria entering the tooth pulp. Root canals are a very common procedure that can save a tooth that has severe damage or decay. The process is typically completed with a permanent crown.
If you've chipped a tooth, it is important that you seek dental care as soon as you can to ensure further damage, such as infection, does not occur. Our experienced dentists at Cornerstone Dental can perform an oral evaluation to determine the most appropriate treatment option for your broken tooth. If you are ready to schedule an appointment with our team, please contact us today!