Skip to main content
Home/Office Information/Cornerstone Premier Dental Plan
Cornerstone Premier Dental Plan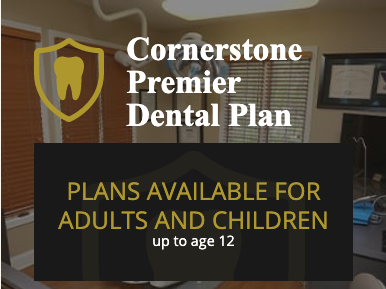 At Cornerstone Dental, our mission is to help patients achieve optimal oral health and beautiful teeth through the most advanced dental treatments available. To ensure that our patients are able to get the routine and specialty care they need, we offer an in-house insurance program to make paying for your care more manageable. By signing up for one of our Cornerstone Premier Dental Plan membership program, you will receive numerous yearly benefits that provide dental care at a reduced cost, including savings on treatments like dental implants, Invisalign®, and teeth whitening.
Whether you are interested in coverage for yourself, yourself and your spouse, or the entire family—participating in our insurance program means excellent dental care at an accessible price. Our team is available to answer any questions you may have and educate you on the advantages of signing up. See below for the discounts and benefits for participating patients.
Cornerstone Premier Dental Plan
15% discount on all services including dental implants and Invisalign® ($2,000 Maximum Discount)
2 periodic exams per year
2 sets of free bitewing x-rays per year
2 basic cleanings per year
2 free fluoride treatments per year for children under 19
2 emergency exams per year
$200 off Zoom!® Whitening
If you are interested in signing up for one of our Cornerstone Premier Dental Plan memberships, or if you would like more information on a specific plan, please do not hesitate to contact our office today.