Skip to main content
Home/Dental Implants/What are Single Tooth Dental Implants?
What are Single Tooth Dental Implants?
If you have a missing tooth and are considering replacement, there are advanced options available to provide you with a natural-looking new tooth that does not affect your adjacent teeth. Our experienced implant dentist, Dr. John Beckwith, can place a permanent dental implant in the area of the missing tooth, enhancing both the function of your teeth and the appearance of your smile. A dental implant, as opposed to other teeth replacement options, can also reduce risks that missing teeth may have on your overall oral health.
Our cosmetic and restorative dentists here at Cornerstone Dental are committed to giving our patients unparalleled standards of care and excellent results. Dr. John Beckwith is a Diplomate of the American Board of Oral Implantology/Implant Dentistry, an organization known throughout the world for its strict requirements of demonstrated excellence and accomplishment among its members. Dr. Beckwith also places a very high premium on continuing education, and regularly pursues additional training for the latest innovations in implant dentistry.
Patient Reviews
Very professional staff and state-of-the-art technology. Super clean and beautiful office! The family is very happy and comfortable with this practice!

Kathleen Schwint

October 07, 2017

12345
More Reviews
Benefits of Single Tooth Dental Implants
A single tooth dental implant offers a number of advantages over more traditional tooth replacement methods. They can also reduce the risks of other teeth and gum-related problems caused by untreated tooth loss. Some of the benefits of single tooth implants include:
Permanent solution to replace a single missing tooth
Unlike a dental bridge, dental implants do not affect adjacent teeth
Helps avoid bone / soft tissue loss and keeps the bone intact
Easy to clean and maintain – no additional maintenance other than daily brushing and flossing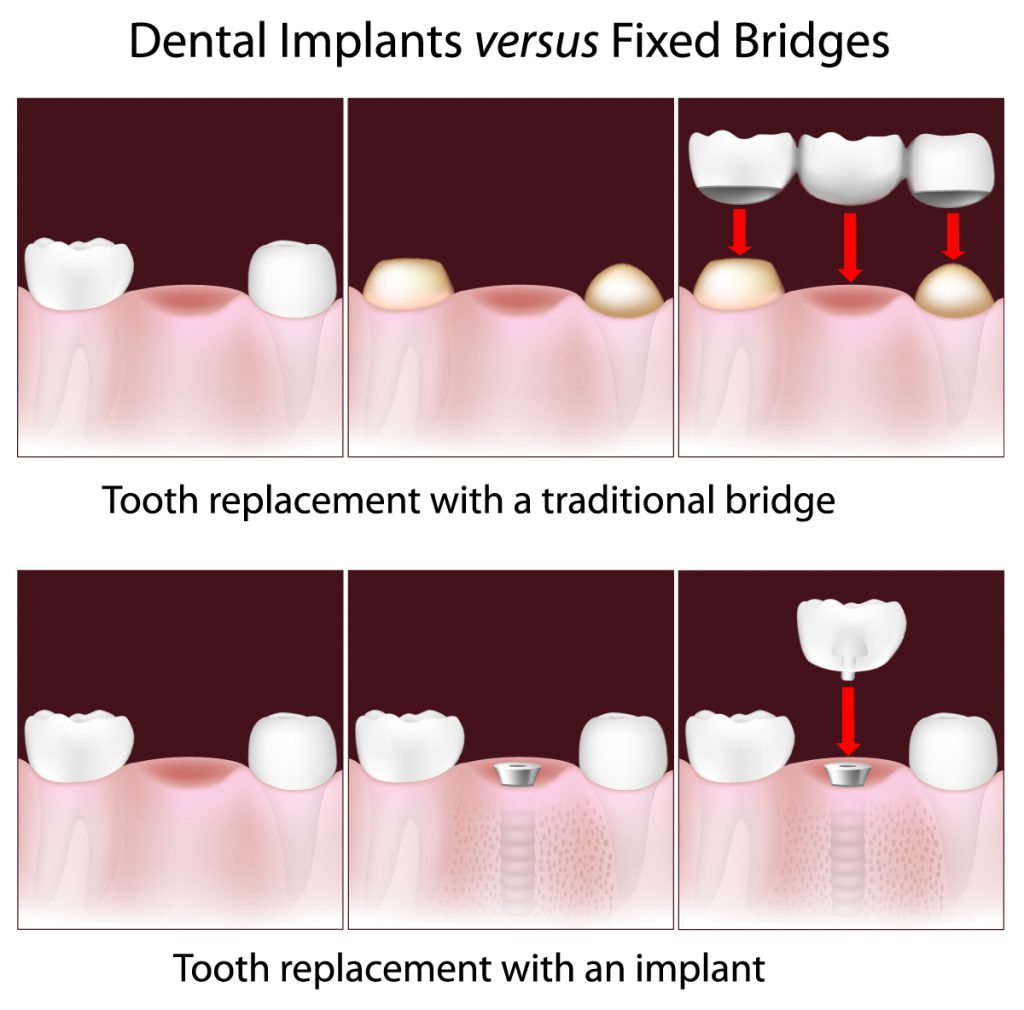 Dr. John Beckwith will review all aspects of treatment with you during your initial consultation. At this first meeting, Dr. Beckwith will answer your questions and talk about the best options for your needs.
Are You a Candidate?
Dr. Beckwith will conduct a comprehensive oral examination to determine if you are a suitable candidate for a single tooth dental implant. Patients who qualify for this procedure typically include:
those who have a single missing tooth and are looking for a permanent, natural-looking replacement
those who have adequate jawbone density to support the implant
those who are seeking alternatives to fixed bridges and dentures
The Single Tooth Implant Procedure
To initiate the single tooth implant process, Dr. Beckwith will surgically place a titanium implant post into the area of the missing tooth. This post will then fuse with the jawbone over a period of about three to six months, allowing it to become a permanent part of your mouth. During the fusion process, Dr. Beckwith can place a temporary crown onto the implant for greater comfort and aesthetics. Once the process is complete, Dr. Beckwith will affix a custom-made permanent dental crown to the post. This crown is formulated to provide the best possible fit, and it is color-match to the rest of your teeth for a natural-looking appearance.
Single tooth dental implants are specifically designed for each patient to provide a new tooth that is so similar to the function and appearance of your natural teeth, you may have a tough time recognizing the difference. Our offices utilize CBCT (also known as CAT scan) technology as well as the ScanX Digital Panoramic X-Ray System when planning our dental implant procedures, giving Dr. Beckwith an extraordinarily clear view of the treatment area. These state-of-the-art systems help Dr. Beckwith create a customized treatment plan  and perform computer-guided surgery that can result in the most accurate fit and beautiful appearance possible.
Contact Cornerstone Dental For More Information
For more information on single tooth dental implants, or to schedule an appointment with Dr. John Beckwith, please contact Cornerstone Dental today.