Skip to main content
Porcelain Crowns
Porcelain dental crowns, also known as "caps," are coverings placed over a tooth to provide restored structural and aesthetic support to teeth that are heavily decayed, damaged, or broken down. This restorative dental solution can be one of the most valuable methods of saving a damaged tooth from extraction for a functional, aesthetically pleasing result. Porcelain crowns are often used to cover dental implants, adding vital support to the surface of the tooth. Cosmetic dentist John D. Beckwith, DMD is considered one of the top practitioners in dental implantology, with comprehensive experience and post-graduate work utilizing the latest techniques and equipment available. As a result, Dr. Beckwith is well-versed in application of a dental crown alone, or in accordance with a dental implant.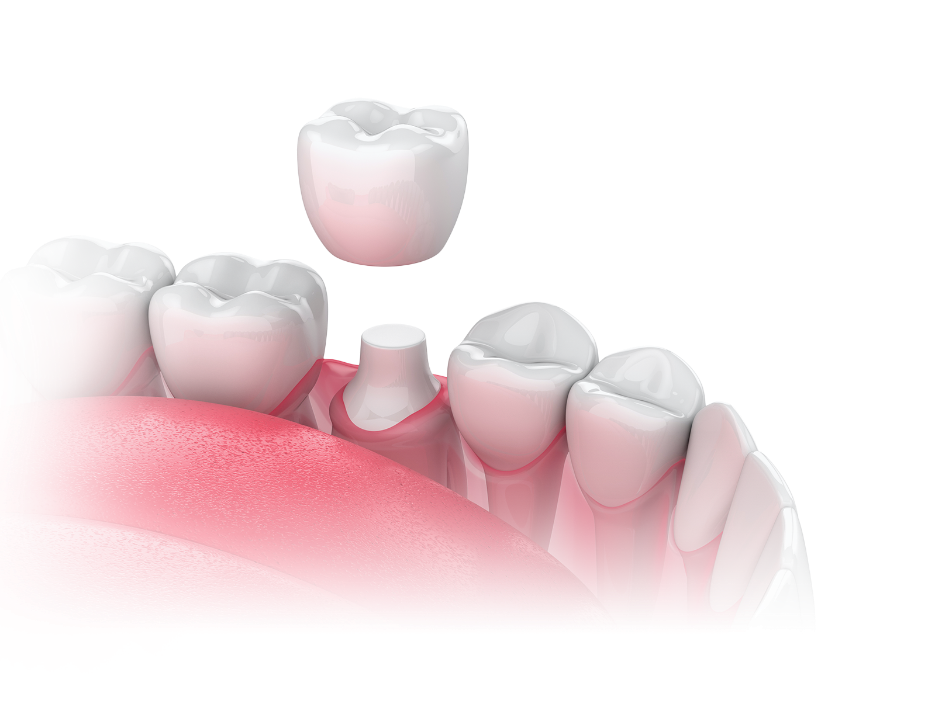 Dr. Beckwith's high level of comprehensive training in cosmetic dentistry allows him to provide patients with the best care and most comfortable experience possible. For this reason, you can feel confident that you are receiving a treatment plan tailored to your unique needs that will enhance both your smile and oral health.
What are Porcelain Crowns?
Porcelain crowns are dental coverings, generally placed over a tooth to restore form and function. This common dental treatment can be used in a variety of situations, including:
to protect a weak tooth
to restore a tooth that is already broken or severely worn down
to hold a dental bridge in place
to cover a dental implant during the final stage of restoration
to support a tooth following a root canal
Previously, dental crowns were made of gold or metal inside a porcelain shell. However, it is now possible to create all-porcelain crowns that are extremely durable and made to last for decades. Once an impression of your teeth has been made, the crown will be custom-designed for the most accurate fit over the damaged tooth. Dr. Beckwith will take care to precisely color-match the crown to your surrounding teeth, which gives the crown a natural appearance.
Benefits of Porcelain Crowns
Porcelain crowns are long-lasting, durable, and can provide an excellent way to save a tooth from extraction. Patients with porcelain crowns generally enjoy benefits such as:
Structural support that can decrease tooth sensitivity or pain
Improved appearance of misshapen or damaged teeth
Restoration of cracks and fractures
Protection from future wear and tear
Better affordability than other tooth restoration options
Candidates for Porcelain Crowns
Ideal candidates for porcelain crowns are patients needing additional support in one or several teeth. Individuals with cracked, fractured, decayed, or damaged teeth would typically benefit greatly from porcelain crowns. In addition, those receiving dental implants to replace missing teeth may also be candidates for crowns. If you have a dental concern and are unsure whether porcelain crowns can help, Dr. Beckwith would be happy to answer all your questions and recommend the best treatment option during an in-person consultation.
The Porcelain Dental Crowns Experience
Before the dental crown procedure, Dr. Beckwith will thoroughly examine your dental needs to make certain a crown will benefit you. If it is determined you are an ideal candidate, he will then make an impression of your teeth that is used to custom-design your crown for a precise, comfortable fit. The model will be sent to a top-accredited dental laboratory to manufacture the crown according to the shape, appearance, and color of the rest of your teeth.Once the crown is created and ready to be placed, a local anesthetic will be applied to numb the treatment area and minimize potential discomfort. If the crown is primarily being used to restore a tooth, the affected tooth will be cleaned and filed prior to crown application. The crown is then expertly attached using a durable cement for a custom fit that can look and feel like your natural teeth. Usually, the entire dental crown process can be completed in two office visits.
Contact Cornerstone Dental for More Information
Porcelain dental crowns are a very effective treatment for restoring both form and function to damaged teeth. For more information about porcelain dental crowns, please contact our practice today.