Skip to main content
Advanced Periodontal Care
More than 50 percent of Americans are afflicted with periodontal (gum) disease. Gingivitis, an early form of periodontal disease, can ultimately lead to severe damage to your teeth, and even tooth loss. But, even more seriously, gum disease can contribute to a significantly higher risk of heart disease, stroke, and other conditions that affect your overall health. There is no cure for gum disease; however, the effects of it can be greatly reduced, and with early treatment, problems stemming from gum disease can be prevented from occurring later. Our experienced dentists at Cornerstone Dental offer some of the latest advances in periodontal care to effectively treat gum disease in the most comfortable way possible. Committed to using the latest dental technology in our procedures, our dentists utilize some of the most advanced laser periodontal treatment systems available to give patients the best possible results. With laser dentistry procedures, periodontal care from our practice can give patients healthier and more attractive gums without invasive surgery, gumline sutures, or extensive recovery times.
Please contact Cornerstone Dental for more information on our advanced periodontal care procedures.
What is Periodontal (Gum) Disease?
Gum disease develops when plaque and bacteria gradually build up in the mouth, causing gum and tooth damage. In its earliest stages, called gingivitis, you may notice swollen, red gums that tend to bleed easily. The condition typically worsens, and if it is not treated, the damage can become so severe that teeth become loose and fall out. In addition to these oral problems, gum disease can lead to other serious health concerns as well, which is why it is so important to seek treatment as soon as possible. Even those with good oral hygiene habits can develop gum disease, and symptoms may not always be obvious. As a result, you should schedule routine dental exams to ensure you do not have any problems.
What are the Benefits of Laser Periodontal Treatment?
Laser therapy for periodontal disease at Cornerstone Dental has a number of advantages over traditional gum treatments. Benefits of laser periodontal care include:
Minimally invasive and less painful than other methods
Sutures are not necessary – the laser effectively seals the gums during treatment
Many patients have experienced longer-lasting results from laser treatment
Less recovery time with laser surgery
Less bleeding and swelling after surgery
Can often be ideal for patients with blood disease and other conditions such as hemophilia, HIV, or diabetes
Can be completed in less time than it takes for traditional gum surgery
The Periodontal Treatment Experience
Our experienced periodontal team at Cornerstone Dental uses advanced laser systems to treat gum disease safely and effectively. Laser gum treatment typically eliminates the need for a scalpel and more invasive gum surgery procedures. Bacteria and diseased gum tissue can be meticulously removed using laser energy, while healthy tissue is left alone. Once the tooth roots have been removed of tartar, the laser is used again to sterilize the treated areas and seal the gum pockets. Laser dentistry is also capable of helping to regenerate bone in the treatment areas. Patients typically have very little gum or teeth sensitivity after treatment, and any minor discomfort can often be alleviated with over-the-counter medication.
Periodontal care with laser techniques can be part of a routine deep cleaning procedure here at Cornerstone Dental, providing patients with a vital component in maintaining oral health and keeping the gums as free from bacteria as possible.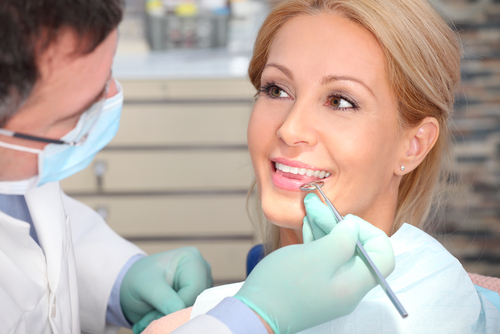 Surgical Treatment Options
Tissue Grafting
As your gums recede, your tooth roots are gradually uncovered, making them vulnerable to bacteria in your mouth. At Cornerstone Dental, we offer tissue grafting to restore this lost tissue. Dr. Beckwith does this by taking a small graft of gum tissue from your palate or a donor source and transferring it to the target area to cover up the exposed roots and prevent further recession. This helps protect your tooth roots and prevent decay. The tissue grafting procedure can be performed on one or more teeth to correct recession and create an even gum line, which can lower tooth sensitivity and improve the overall aesthetics of your smile.
Crown Lengthening
Crown lengthening is designed to reshape gum tissue and bone material to reveal a larger surface area of your tooth. This is often recommended for those undergoing certain restorative or cosmetic procedures to expose an area of a tooth that needs work. Our dentists may recommend this procedure if you have a tooth that is decayed, broken above the gum line, or does not offer sufficient support for a restoration, such as a porcelain crown or bridge.
Osseous Surgery
In a healthy mouth, bone and gum tissue surround the teeth, creating a strong support system. If you suffer from periodontal disease, this support is severely damaged, and pockets form between the teeth and the gums, which creates a breeding ground for bacteria to thrive. This leads to further decay of bone and gum tissue. At a certain point, this decay may create the need for your affected teeth to be extracted.
To help protect your teeth and gums, Dr. Beckwith performs osseous surgery, which prevents severe decay from occurring. He does this by first lifting the gum tissue and clearing away bacteria. The tooth is then reshaped and smoothed to make it more difficult for bacteria to attach itself to your tooth's surface in the future. Osseous surgery is designed to treat the pockets that form from periodontal disease as well as remove harmful bacteria. By doing this, you can avoid further damage from the disease.
To learn more about our advanced periodontal care treatments, please contact Cornerstone Dental. When you come in for your appointment, our experienced dental team can help you find the best treatment options for your needs.