New Jersey Cosmetic Dentist Receives Award For Best Hillsborough Practice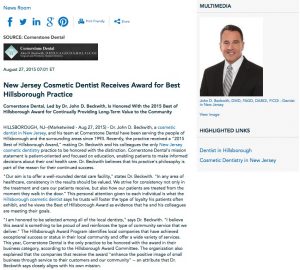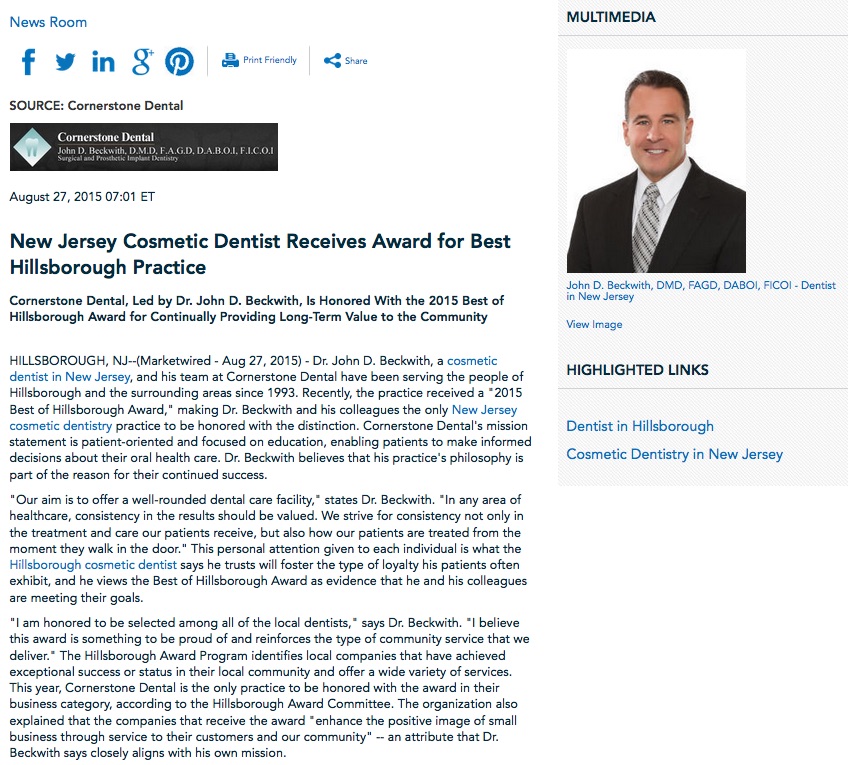 Cornerstone Dental, led by Dr. John D. Beckwith, is honored with the 2015 Best of Hillsborough Award for continually providing long-term value to the community.
Hillsborough, NJ – Dr. John D. Beckwith, a cosmetic dentist in New Jersey, and his team at Cornerstone Dental have been serving the people of Hillsborough and the surrounding areas since 1993. Recently, the practice received a "2015 Best of Hillsborough Award," making Dr. Beckwith and his colleagues the only New Jersey cosmetic dentistry practice to be honored with the distinction. Cornerstone Dental's mission statement is patient-oriented and focused on education, enabling patients to make informed decisions about their oral health care. Dr. Beckwith believes that his practice's philosophy is part of the reason for their continued success.
"Our aim is to offer a well-rounded dental care facility," states Dr. Beckwith. "In any area of healthcare, consistency in the results should be valued. We strive for consistency not only in the treatment and care our patients receive, but also how our patients are treated from the moment they walk in the door." This personal attention given to each individual is what the Hillsborough cosmetic dentist says he trusts will foster the type of loyalty his patients often exhibit, and he views the Best of Hillsborough Award as evidence that he and his colleagues are meeting their goals.
"I am honored to be selected among all of the local dentists," says Dr. Beckwith. "I believe this award is something to be proud of and reinforces the type of community service that we deliver." The Hillsborough Award Program identifies local companies that have achieved exceptional success or status in their local community and offer a wide variety of services. This year, Cornerstone Dental is the only practice to be honored with the award in their business category, according to the Hillsborough Award Committee. The organization also explained that the companies that receive the award "enhance the positive image of small business through service to their customers and our community" – an attribute that Dr. Beckwith says closely aligns with his own mission.
The cosmetic dentist highlights that the 2015 Best of Hillsborough Award and similar accolades reinforce that local residents recognize the passion for providing both personalized care and exceptional results that he shares with his colleagues at Cornerstone Dental. According to Dr. Beckwith, distinctions and recognitions such as these reinvigorate the doctors and staff to deliver the best possible care to their patients.
About John D. Beckwith, DMD, FAGD, DABOI, FICOI
After earning his dental degree at the University of Pennsylvania School of Dental Medicine, Dr. John D. Beckwith, a Diplomate of the American Board of Oral Implantology (DABOI), completed a pediatric fellowship at the Institute of Growth and Development. As a practicing cosmetic dentist for over 27 years, his skill and expertise range from general dentistry to restorative and cosmetic dentistry procedures. Dr. Beckwith is also a Fellow of The International Congress of Oral Implantologists (FICOI) and an Associate Fellow of the American Academy of Implant Dentistry (aFAAID). Dr. Beckwith is available for interview upon request.
To learn more about the practice, please visit cornerstonedentalnj.com or facebook.com/NJCornerstoneDental.
Contact:
Cornerstone Dental
485 Amwell Road
Hillsborough, NJ 08844
(908) 864-7297
Rosemont Media
(858) 200-0044
www.rosemontmedia.com