Hillsborough Dentist on Oral Appliance Therapy for Sleep Apnea and Snoring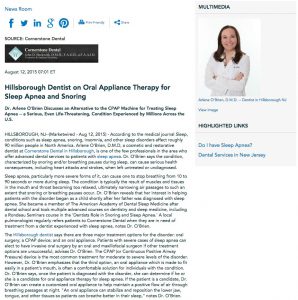 Dr. Arlene O'Brien discusses an alternative to the CPAP machine for treating sleep apnea – a serious, even life-threatening condition experienced by millions across the U.S.
Hillsborough, NJ – According to the medical journal Sleep, conditions such as sleep apnea, snoring, insomnia, and other sleep disorders affect roughly 90 million people in North America. Arlene O'Brien, D.M.D, a cosmetic and restorative dentist at Cornerstone Dental in Hillsborough, is one of the few professionals in the area who offer advanced dental services to patients with sleep apnea. Dr. O'Brien says the condition, characterized by snoring and/or breathing pauses during sleep, can cause serious health consequences, including heart attacks and strokes, when left untreated or undiagnosed.
Sleep apnea, particularly more severe forms of it, can cause one to stop breathing from 10 to 90 seconds or more during sleep. The condition is typically the result of muscles and tissues in the mouth and throat becoming too relaxed, ultimately narrowing air passages to such an extent that snoring or breathing pauses occur. Dr. O'Brien reveals that her interest in helping patients with the disorder began as a child shortly after her father was diagnosed with sleep apnea. She became a member of The American Academy of Dental Sleep Medicine after dental school and took multiple advanced courses on dentistry and sleep medicine, including a Rondeau Seminars course in the 'Dentists Role in Snoring and Sleep Apnea.' A local pulmonologist regularly refers patients to Cornerstone Dental when they are in need of treatment from a dentist experienced with sleep apnea, notes Dr. O'Brien.
The Hillsborough dentist says there are three major treatment options for the disorder: oral surgery; a CPAP device; and an oral appliance. Patients with severe cases of sleep apnea can elect to have invasive oral surgery by an oral and maxillofacial surgeon if other treatment options are unsuccessful, advises Dr. O'Brien. The CPAP (or Continuous Positive Airway Pressure) device, is the most common treatment for moderate to severe levels of the disorder. However, Dr. O'Brien emphasizes that the third option, an oral appliance which is made to fit easily in a patient's mouth, is often a comfortable solution for individuals with the condition. Dr. O'Brien says, once the patient is diagnosed with the disorder, she can determine if he or she is a candidate for oral appliance therapy for sleep apnea. If the patient is a candidate, Dr. O'Brien can create a customized oral appliance to help maintain a positive flow of air through breathing passages at night. "An oral appliance can stabilize and reposition the lower jaw, tongue, and other tissues so patients can breathe better in their sleep," notes Dr. O'Brien.
Dr. O'Brien says she enjoys using her extensive education and training for treating sleep apnea patients so they can get a healthier, more peaceful night's sleep. Overall, she recommends patients who are suffering from sleep apnea find a dentist listed in the directory of the American Academy of Dental Sleep Medicine who is specifically trained in providing an oral appliance as part of their dental services. Dr. O'Brien explains, "I want to bring awareness to people that there is another option if they do not want to wear a CPAP machine. An oral appliance can allow you to breathe better, thereby improving your overall health and well-being."
About Arlene O'Brien, D.M.D
Dr. Arlene O'Brien attended Rutgers University and received her Doctor of Medical Dentistry dental degree at the University of Medicine and Dentistry of New Jersey. She completed a hospital residency program at the Jersey Shore University Medical Center and is a resident supervisor for post-doctoral training at that institution. Together with the founder and director of Cornerstone Dental, Dr. John D. Beckwith, she performs cosmetic, general, and restorative dental procedures including teeth whitening, porcelain veneers, and many other options. Dr. O'Brien is an active member of The American Academy of Dental Sleep Medicine, The Academy of General Dentistry, and The American Dental Association.
To learn more about sleep apnea, please visit cornerstonedentalnj.com or facebook.com/NJCornerstoneDental
Cornerstone Dental
485 Amwell Road
Hillsborough, NJ 08844
(908) 359-2121
Rosemont Media
(858) 200-0044
www.rosemontmedia.com