New Jersey Cosmetic Dentist Answers Common Dental Implant Questions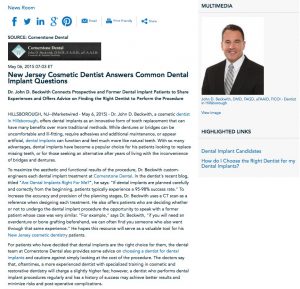 Dr. John D. Beckwith connects prospective and former dental implant patients to share experiences and offers advice on finding the right dentist to perform the procedure.
Hillsborough, NJ – Dr. John D. Beckwith, a cosmetic dentist in Hillsborough, offers dental implants as an innovative form of tooth replacement that can have many benefits over more traditional methods. While dentures or bridges can be uncomfortable and ill-fitting, require adhesives and additional maintenance, or appear artificial, dental implants can function and feel much more like natural teeth. With so many advantages, dental implants have become a popular choice for his patients looking to replace missing teeth, or for those seeking an alternative after years of living with the inconvenience of bridges and dentures.
To maximize the aesthetic and functional results of the procedure, Dr. Beckwith custom-engineers each dental implant treatment at Cornerstone Dental. In the dentist's recent blog, titled "Are Dental Implants Right For Me?", he says: "If dental implants are planned carefully and correctly from the beginning, patients typically experience a 95-98% success rate." To increase the accuracy and precision of the planning stages, Dr. Beckwith uses a CT scan as a reference when designing each treatment. He also offers patients who are deciding whether or not to undergo the dental implant procedure the opportunity to speak with a former patient whose case was very similar. "For example," says Dr. Beckwith, "if you will need an overdenture or bone grafting beforehand, we can often find you someone who also went through that same experience." He hopes this resource will serve as a valuable tool for his New Jersey cosmetic dentistry patients.
For patients who have decided that dental implants are the right choice for them, the dental team at Cornerstone Dental also provides some advice on choosing a dentist for dental implants and cautions against simply looking at the cost of the procedure. The doctors say that, oftentimes, a more experienced dentist with specialized training in cosmetic and restorative dentistry will charge a slightly higher fee; however, a dentist who performs dental implant procedures regularly and has a history of success may achieve better results and minimize risks and post-operative complications.
Dr. Beckwith is a Fellow of The International Congress of Oral Implantologists as well as an Associate Fellow of the American Academy of Implant Dentistry. He says memberships in organizations such as the AAID can be very good indicators for patients looking for skilled implant dentists, as they signify that the dentist has pursued many hours of continuing implant dentistry education, has had to pass in-depth written and oral examinations, and must have a certain level of clinical experience in order to be accepted.
Dr. Beckwith recommends patients spend time researching the accomplishments and credentials of each dentist they are considering so they can make an educated decision about their dental implant procedure and increase the chances of success.
About John D. Beckwith, DMD, FAGD, aFAAID, FICOI
Dr. John D. Beckwith earned his dental degree at the University of Pennsylvania School of Dental Medicine and went on to complete a pediatric fellowship at the Institute of Growth and Development. He has been a practicing dentist for more than 27 years and his practice offers a range of general, restorative, and cosmetic dentistry procedures. Dr. Beckwith is a Fellow of The International Congress of Oral Implantologists, an Associate Fellow of the American Academy of Implant Dentistry, a member of the American Academy of Cosmetic Dentistry, and a member of the American Orthodontic Society. He is available for interview upon request.
To learn more about the practice, please visit cornerstonedentalnj.com or facebook.com/NJCornerstoneDental.
Contact:
Cornerstone Dental
485 Amwell Road
Hillsborough, NJ 08844
(908) 864-7297
Rosemont Media
(858) 200-0044
www.rosemontmedia.com