Are Dental Implants Right for Me?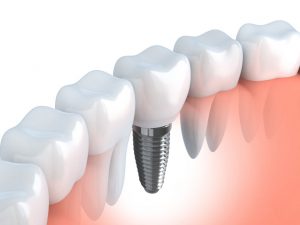 When it comes to replacing a missing tooth, more and more patients are choosing dental implants over traditional means such as dentures or bridges. The gap left by a missing tooth can do more than simply impact the beauty of your smile. Left unaddressed, these spaces can allow adjacent teeth to shift and create more complicated dental concerns. However, many of our patients have found that the adhesives required for dentures or bridges are very inconvenient. Thankfully, dental implants can provide a cosmetically superior alternative with results that look and feel like natural teeth.
When you arrive for your first consultation here at Cornerstone Dental, our experienced implant dentist, John D. Beckwith, DMD, will perform a comprehensive oral exam to determine your candidacy for the treatment. Candidates for dental implants are individuals with missing teeth who have adequate jawbone density to accommodate the implant. Patients who are currently being treated with radiation or chemotherapy, as well as those who have certain health conditions which may prevent proper healing after implant surgery, may not be eligible for dental implants; however, our dentist will recommend suitable alternatives that can provide effective results.
During the initial consultation stages, we often use a CT scan of the patient's mouth to assist in determining candidacy as well as the planning of your dental implant procedure. Each scan is custom-engineered appropriately for that patient's particular situation. This step can be essential to achieving outstanding results. If dental implants are planned carefully and correctly from the beginning, patients typically experience a 95-98% success rate.
To help our patients at Cornerstone Dental decide if dental implants are the right choice for them, we can match each prospective patient with a patient who has already undergone the procedure to share their experiences. Since we have performed so many dental implant procedures, we can often match patients that have extremely similar cases. For example, if you will need an overdenture or bone grafting beforehand, we can often find you someone who also went through that same experience. Many of our patients considering dental implants have found that speaking to a previous patient offers a unique resource and a valuable tool when making their own decision about the procedure.
Contact Us
To learn more about dental implants, or to schedule an appointment, please contact our office today.