Hillsborough Dentists Receive 2020 Best of Hillsborough Award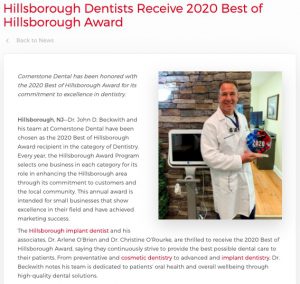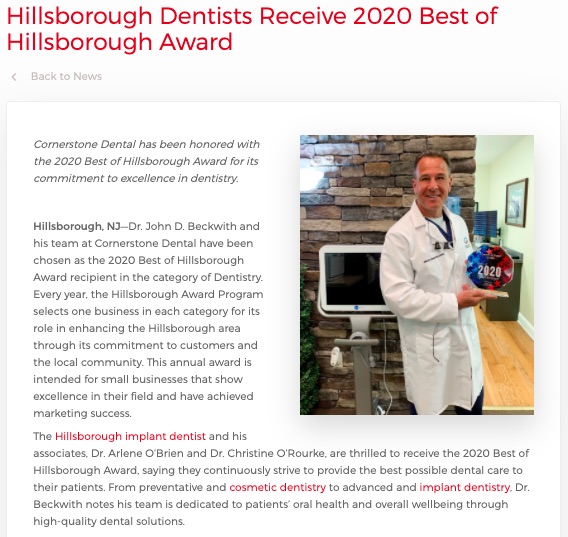 Cornerstone Dental has been honored with the 2020 Best of Hillsborough Award for its commitment to excellence in dentistry.
Hillsborough, NJ—Dr. John D. Beckwith and his team at Cornerstone Dental have been chosen as the 2020 Best of Hillsborough Award recipient in the category of Dentistry. Every year, the Hillsborough Award Program selects one business in each category for its role in enhancing the Hillsborough area through its commitment to customers and the local community. This annual award is intended for small businesses that show excellence in their field and have achieved marketing success.
The Hillsborough implant dentist and his associates, Dr. Arlene O'Brien and Dr. Christine O'Rourke, are thrilled to receive the 2020 Best of Hillsborough Award, saying they continuously strive to provide the best possible dental care to their patients. From preventative and cosmetic dentistry to advanced and implant dentistry, Dr. Beckwith notes his team is dedicated to patients' oral health and overall wellbeing through high-quality dental solutions.
To select the winners each year, the Hillsborough Award Program evaluates the quality of local businesses and practitioners. The organization gathers information from various sources to determine those that are actively involved in the community and provide exemplary customer service.
Dr. Beckwith is proud that Cornerstone Dental was recognized by the Hillsborough Award Program for 2020. He says the mission of his practice is to offer total dental care that improves patients' oral health and helps them achieve a beautiful smile with long-lasting results.
About John D. Beckwith, DMD, FAGD, DABOI, FICOI
Dr. Beckwith is a well-known cosmetic and implant dentist with office locations in Hillsborough and Green Brook, New Jersey. He completed his dental degree at the University of Pennsylvania, School of Dental Medicine, and regularly participates in the Misch International Implant Institute surgical program. Through his commitment to providing excellent dental care, Dr. Beckwith has been voted a "NJ Top Dentist" and an "American Top Dentist" for several years. In addition to helping patients at Cornerstone Dental, Dr. Beckwith is active in several professional organizations. He is a Diplomate of the American Board of Oral Implantology, which is the highest status a dental professional can achieve in implantology. Dr. Beckwith is also a Fellow of the International Congress of Oral Implantology, Academy of General Dentistry, and American Academy of Implant Dentistry. He is available for interview upon request.
During the COVID-19 pandemic, Dr. Beckwith is offering virtual consultations for patients interested in cosmetic or restorative procedures. He and his team are also providing urgent care for patients with dental emergencies.
To learn more about the practice, please visit cornerstonedentalnj.com or facebook.com/NJCornerstoneDental.
Contact:
Cornerstone Dental
Hillsborough Office:
485 Amwell Road
Hillsborough, NJ 08844
(908) 359-2121
Green Brook Office:
314 US Hwy 22 West
Suite D
Green Brook, NJ 08812
(732) 424-8483
Rosemont Media
(858) 200-0044
www.rosemontmedia.com